| | |
| --- | --- |
| | For other use of Aircraft, see Aircraft. |
Aircraft are flying vehicles used for combat, transport, or utility purposes. The first planes were made in the early twentieth century, and first saw combat in the Second World War. Typically less armored than ground vehicles, they are immune to most enemy fire when airborne, but units that are capable of anti-aircraft fire are easily capable of shooting them down. It is where aircraft technology development has taken a radically different path...
Second World War
See: Aircraft (Red Alert)
First Tiberium War
GDI Air Force
During the First Tiberium War, GDI used ORCA Assault Crafts, lightly armored VTOL craft, that possessed Dragon TOW missile launchers, as their main aircraft. In addition, GDI deployed a range of support aircraft, including A-10s, armed with napalm bombs that can blanket area targets, such as troop concentrations or fortification clusters, with an intense firestorm, giving Nod the feelings on what it's like to be in a hot-spot.
Nod Air Force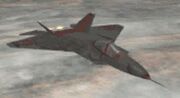 For aerial offense, Nod use overhauled, but outdated, Apaches. These use a powerful chaingun as a primary weapon.
They also use civilian cargo planes to deliver vehicles onto the battlefield.
Both sides also utilized CH-47 Chinooks and C-130s to transport troop and equipment during the war.
Second Tiberium War
GDI Air Force
GDI continued their Orca development projects after the First Tiberium War, falling partially under the auspices of Project Orca AD02/337.[1], resulting in many variants of Orca aircraft during the second tiberium war. Many of the new Orcas used articulating turbofans and eschewed wings like the ORCA Assault Craft. The Orcas, like other contemporary aircraft, were disabled by ion storms.
Nod Air Force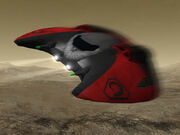 Using technology plundered from the alien artifact, known as the Tacitus, Kane create the Banshee; an next generation heavy attack fighter/bomber aircraft that utilises a pair of powerful, rapid fire, plasma cannons, which were optimized for use against vehicles.
Harpies are a derivative version of the AH-64 Apaches and were been developed as their predecessors have grown obsolete with the rise of the GDI's new Orca technology. These new aircraft were more potent in their job as well as increasing local anti-air capability.
Third Tiberium War
GDI Air Force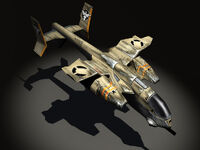 The dominance enjoyed by Orcas in GDI's aerial arsenal disappeared after the Second Tiberium War. Fixed-wing aircraft took over the air superiority, tactical bomber, and airlift roles and the heavy close air support role was given to the rotor-wing. The Orcas were not thrown out of GDI's air-force so far, being more of aerial scouts and participating in hit-and-run roles.
GDI also have Ironside, a large experimental aircraft use a troop transport, but was destroyed by a Nod Black Hand strike force sent to capture Dr. Alphonse Giraud, thus abruptly and prematurely terminating the project.
Nod Air Force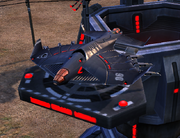 Scrin Air Force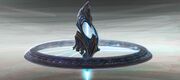 The Scrin, despite being a terrifying posture on the ground, they appear to dominate the airspace with their arsenal of aircraft.
References