Buggy
Unit
Affiliation
Role

Anti-infantry recon

Armament

M-60 machine gun

Production
Cost

300

Build time

0:20
For more uses see: buggy.
The buggy (or Nod buggy) was a Nod light vehicle of the First Tiberium War. Compared to the GDI hum-vee, the buggy was sacrificed protection for greater speed. One crew member manned the dorsal machine gun. The buggy was useful for reconnaissance and skirmishing with other light forces.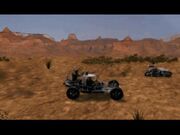 Another design also entered service during the war but was not as widely deployed.
See Also
Unit
Infantry
Vehicles
Aircraft

(cutscenes only): C-130 Hercules • YF-22

Vessels
Structures
Production
& tech
Defenses
& support
Support Powers
Support Powers