Heightened Clearance is an upgrade for Allied Construction Yards and Command Hubs. For 1500 credits, it grants the commander access to tier 2 technologies. Allowing the commander to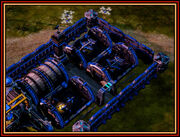 deploy more powerful units, construct advanced structures, as well as requesting Max Clearance.
Note that the clearance signal can only be broadcast in a small radius around the Construction Yard or the Command Hub. Any structures outside of the broadcast radius cannot produce tier 2 units until a Construction Yard/Command Hub near them purchases the clearance upgrade.
See also
Units
Infantry
Vehicles
Aircraft
Vessels
Cut content
Structures
Production
& tech
Defenses
& support
Campaign buildings
Support powers & upgrades
Top Secret Protocols
Superweapons
Items in italics are exclusive to Uprising