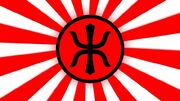 Welcome Shogun, this page is a quick summary of the arsenal of the Empire of the Rising Sun during World War III. Click on the relevant links to find out more about the units and structures listed here.
Infantry
All Imperial infantry are trained from the Instant Dojo.
Vehicles
All Imperial Vehicles can be constructed at the Mecha Bay. Note that some amphibious units can also be constructed at the Imperial Docks.
All Imperial naval units are built at the Imperial Docks.
Structures
Imperial structures are built from the Construction Yard as Nanocores.
Imperial production facilities needed to be upgraded individually in order to produce more advanced units.
Base Defences
See also
Units
Infantry
Vehicles
Aircraft
Vessels
Cut content
Structures
Production
& tech
Defenses
& support
Campaign locations
Support powers & upgrades
Top Secret Protocols
Superweapons
Items in italics are exclusive to Uprising