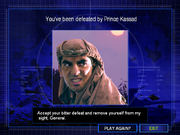 While Prince Kassad was not able to attack his opponents head on, his abilities to sneak in and out of poorly defended bases or set up other bases on the map undetected made him a very frustrating opponent to fight. Unlike like any other general, his super weapon can be hidden, only briefly being seen after construction before being able to be cloaked. A specialized general, Kassad's stealthy tactics brought immense frustration and headaches to commanders who lack sufficient anti-stealth units.
Kassad also had an extremely annoying habit of hijacking opposing vehicles for his own use. Due to his hijackers being permanently camouflaged, a few loitering Hijackers waiting along the path of an armor column was usually enough to cause serious confusion and lots of collateral damage if no stealth detection is used.
However once Kassad's forces are detected, they are weaker than most of what the GLA has to offer. Bases that are heavily defended from stealth attacks were often out of reach for Kassad, as he lacked the fire power to generally swarm effectively, and doing so often neglected his strongest asset of being sneaky. His base defenses also were about average for the GLA, with no actual differences with other generals other than stealth. He always has major troubles with Shin Fai, since he was capable of spamming his base with mines and had the Attack Outpost as well as Assault Troop Crawlers, both had considerable stealth detection range and could be outfitted with enough firepower to dispatch most of what Kassad had to offer.