Hello & welcome commander.
I am an avid gamer, game developer, designer, mapper, texture artist, coder, photographer & more. 
As a Worldbuilder veteran since the 90s, I have created many hundreds of maps for various C&C games.
Mapping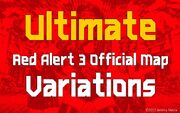 I'm the author of the Red Alert 3: Official Map Variations map pack, which can be downloaded over on ModDB - https://www.moddb.com/games/cc-red-alert-3/addons/pack-ultimate-ra3-official-map-variations#
More details about the pack are now on this wiki: User:JenkinsTR/URA3OMV
A version for Kane's Wrath is in the works, but a release is TBA (they take forever to make).
Pages on this wiki that I've created
Updated these
Other wikis
Other engines
I have been designing, modding and tinkering with vast amounts of games and engines in the past. These are the most notable engines that I've dug deep into:
Total Statistics
Wikis Edited

1

Contributions

Creations

199

Edits

271

Deletes

0

Patrols

0

Command & Conquer Wiki Rank
(Leaderboard)

15

Gamepedia Rank
(Leaderboard)

9,252

Friends

3
Achievements
Command & Conquer Wiki