Welcome
Hi, welcome to Command & Conquer Wiki! Thanks for your edit to the Tatsu page.
Please leave a message on my talk page if I can help with anything! -- AthCom (Talk) 22:05, 24 December 2011
Message from a rambler
No, apocalypse tank owns all, I'm afraid.
Do you have RA3 for Xbox 360, by any chance?
Nuke-This-Cola 05:36, May 19, 2012 (UTC)
The violator has been banned. Thanks for the report.
Sheldonist 20:00, July 22, 2012 (UTC)
Congratulations
You're doing an amazing job here at Command & Conquer Wiki. As a sysop, I can't give you a higher rank than that of a chat moderator, but I'll talk to Tagaziel about promoting you to admin. That is, if you feel you can do it (and I don't doubt it ;) )
Sheldonist 09:00, July 25, 2012 (UTC)
I think being a chat moderator is enough for me. I don't could handle being another admin since I'm already an admin on the R.U.S.E. Wiki and the Wargame: European Escalation Wiki. Privatejfx141 (talk) 17:52, July 25, 2012 (UTC)
Airborne/Paratroopers
By all means. Please try not to lose any of the relevant text of either articles.
Sheldonist 20:54, August 9, 2012 (UTC)
Gens 1 alpha trailer
Well of course. The more rare stuff we have, the better it gets. If possible, find it in better quality and stick it to the main Generals 1 article.
Sheldonist 12:33, August 10, 2012 (UTC)
Gens 2 Director's Cut
Awesome find! Posted in the C&C 2013 article.
Sheldonist 20:39, September 8, 2012 (UTC)
Gens 1 trailer
Why don't you embed the Generals 1 trailer in the article, now that you found it in HQ? Yeah, CnCSaga.com fascinates me too.
Sheldonist (yell!) 12:39, October 1, 2012 (UTC)
Re: Beta Images
I downloaded a mod for the beta. Then I took some pictures of them, then cropped them out in Microsoft Paint.
Welcome message
I'll see what I can do about welcome messages when I have the time. BTW, your signature's "Report Intel" link leads to your talk page on the Doom Wiki, where you have no edits. It would be good to link to the wiki(s) where you're most active.
Sheldonist (yell!) 18:17, November 13, 2012 (UTC)
APA logo
I'm stunned by your find of the APA logo! Where did you get it?
Sheldonist (yell!) 14:20, January 4, 2013 (UTC)
You're superhuman. Seriously, I'd really like you to join the staff as an admin. You've more than earned it.
Oh, and about Parture/AgrippaII, we've dealt with him on CNCNZ.com, CommandAndConquer.com and Gamereplays.org. Nobody trusts him, but we can't do much about the thread on his otherwise deserted forum. Sheldonist (yell!) 09:22, January 5, 2013 (UTC)
JPEG
We'd prefer if you'd use PNG images instead of resized JPEGs. We do want the best quality images on this wiki, right?
Sheldonist (yell!) 14:10, January 29, 2013 (UTC)
Comparison renders
Don't know if you noticed, but your work received a shout out on the official Facebook page for the Command & Conquer series. Your comparison wallpapers are phenomenal. :) http://images1.wiki.nocookie.net/fallout/images/0/08/Personal_Sig_Image.gif Tagaziel (call!) 18:09, March 21, 2013 (UTC)
Generals 2 photo                                                                        
Hello there to!.Look if you think that i will going to tell you, you are wrong.......april fools!!! he he he heh he .Sure!! i will going to tell you .I found it from a Facebook page called (Generals 2 we need it!) and this photo were u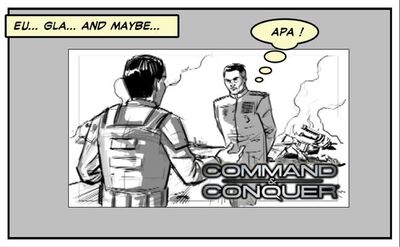 pload it by CNC SAGA and it is Generals 2 concept art ,just like (Generals 2 deserves a solo mode).To bad that both of cncsaga and cncnz still calling it command and conquer and not calling it (COMMAND AND CONQUER GENERALS 2).Muhammed59 (talk) 14:46, April 15, 2013 (UTC)
Community wiki
Sure! Cooperation in the community is always a good thing. :) http://images1.wiki.nocookie.net/fallout/images/0/08/Personal_Sig_Image.gif Tagaziel (call!) 11:22, April 28, 2013 (UTC)
Generals 2 icon units
hello sir.
Although i didn`t showed you the the link of the icons fhoto ,i have good news to you.The person who gave me those two photos of generals 2 he also find it from another c&c website,i have the link of the 2nd war c&c Gen 2.click here     .the generals 2 icon i didnt found it ,but i know where it is .it`s from mod data base page.I know it will be hard to me to find it but dont worry,i promised you that i will going to find it .
(note1:i am going to ask Sheldonist to restore Generals 2 map)
(note2: i am very shocked!! about that photo that you were upload it!. i like it so much!(im a GLA fan). it appears that the GLA is not a terrorist faction,the GLA is a Mddle East revolution faction.Muhammed59 (talk) 14:55, May 11, 2013 (UTC)
Gen 2` name change opinions
Hi and good morning.
I know its to late but i would like to take your permission to use your blog (Gen 2` name change opinions) as a link to share it with other cnc members around the cnc web site in order to change ther mind about the name of the new c&c game and telling them that the new command and conquer game must still call Generals 2 not cnc free to play or cnc 2013 (what kind of silly names is that?,do we call Red alert 3 cnc 2008?).
I hope you dont mind of useing your blog as a link (i will not do any move until you resbond).
And also about the GLA, i dont think that calling theGLA a terrorist faction is a good idea because we are preventig the new c&c players from playing as theGLA in Generals 2 as well as that they think that the Arabs are terrorist people which is very wrong.Muhammed59 (talk) 20:11, July 19, 2013 (UTC)
Images
What is wrong with the images that i have uploaded them?.I have read the  Command & Conquer Wiki - Image and video policy and i didn`t breake any of thier rules.And also,Sheldonist have allowed me to upload images that i create them and other people`s images that i take thier permission from them,There is no insult in this images to any body not even any factions from any cnc game so why you want to removed them?.Most of those images were upload it  several months ago, why you dont say any thing?.This image is also didn`t posted in any page so why you didn`t put it in my page with the others?. Thoose images are only a funny fhotos nothing more. You even ignored my last message to you about using your blog about the name change of Generals 2, you didnt say yes or no and now you remember me about those images that does not deseverd to get delete?Muhammed59 (talk) 23:38, July 30, 2013 (UTC)
Generals 2 Assets Allowed?
So like are we allowed to use ingame assets?
http://cnc.gamepedia.com/Toxin_Gun
CNC-Inside is using them too. 
http://www.cnc-inside.de/uebersicht/command-and-conquer#EU
HOPE1134 (talk) 01:03, September 3, 2013 (UTC)
Games template
Huh. I have no idea how to fix it. May need to call the staff. http://images1.wiki.nocookie.net/fallout/images/0/08/Personal_Sig_Image.gif Tagaziel (call!) 21:46, October 30, 2013 (UTC)
Visceroids
I love you for that. I'm still inclined to give you administrator rights to give you larger control over the wiki and its tools, as you certainly deserve it.
Sheldonist (yell!) 15:38, June 20, 2015 (UTC)
Hello, Like most gamers and fans of the real time strategies, I'm a big fan of the series C&C since it has been established by Westwood studios. These were the first strategies that I've ever played in my life. I grew up with Dun 1 and Red Alert 1 which left an unforgettable impression on me. These two games as well as the subsequent series - Tiberian dawn, Tiberian Sun, Tiberium wars, stimulated my imagination and inspired me to write a novel that takes place in a fictional universe, similar to that of Tiberian Sun. As a gamer and a novice writer I try to reach as many of the rank and file fans of Command & Conquer and the readers of science fiction and postapokalipsis. So I want to ask for your help, assistance and permission to post a topic in your forums with a link as follows: http://www.amazon.com/Red-Star-Rising-TERRIUM-Book-ebook/dp/B017RPY434/ref=sr_1_35?s=digital-text&ie=UTF8&qid=1447272180&sr=1-35&refinements=p_n_date%3A1249101011&pebp=1447272191267&perid=04JS87FCVY90HPBXCNAR to my book distributed at Amazon.com. If you do not mind I would like to ask you as well to put the same link on your the Facebook page if you have it. Thank you in advance for your cooperation. Looking forward for your response.

Greetings, V.Androvski.
Images
Sweet collages, man. Keep it up! http://vignette2.wiki.nocookie.net/cnc/images/0/04/PW_Signature_Nod_Emblem.png Sheldonist (yell!) 11:40, July 12, 2016 (UTC)
Questions regarding NYC Article
Good Evening/Day Admin. Can cutscenes considered canon to the storyline. Particularly the Ending of the Allied campaign. Since at the opening end cutscene the Lenin statue is focused before it toppled down with the news Allies Victorious.
Is there something wrong about it or it is redundant. Please acknowledge VenzGrendalosCazatha 14:42, 18 April 2022 (UTC)
Hello. Yes, cutscenes can be considered canon as long as it is part of the canonical campaign (see this policy page here). And yes at the end of the Allied campaign in Red Alert 3, there was a Lenin statue that was toppled. But the edit that you have made to the New York City article implies that the Lenin statue was the one that replaced the Statue of Liberty. There was nowhere in the Allied campaign specifically to suggest that New York City was conquered and the Statue of Liberty was destroyed by the Soviets. In fact, we have not seen much of the mainland US attacked by the Soviets in the Allied campaign. Only the non-canonical Soviet campaign showed New York invaded in its final mission. - privatejfx141 (talk) 16:36, 18 April 2022 (UTC)
Replacing featured Video with The Loop
Hi! I'm Elsa, a Community Manager here at Fandom. I just wanted to let you know that we're retiring old Featured Video content and replacing it with wiki-targeted videos called The Loop, our weekly series from ScreenJunkies (same team behind Honest Trailers) that talks about news or big moments in pop culture. It's not always CNC related, but it makes sure that we don't have outdated videos on the page. It also only plays twice per session (so if someone visits 5 pages in a single session on your Wiki, they would only see The Loop on the first 2 page visits) so it is a lot less intrusive than Featured Videos. Moving forward, we're also going to be working on awesome new video content types, like interactive videos that actually let you explore wiki content in the video player (i.e. you can click on something in a trailer and it will interact with the wiki page) which we're super excited about, but in order to get there, The Loop needs to be enabled on your wiki. See you around soon! Hypsoline (talk) 16:10, 12 July 2022 (UTC)